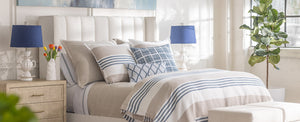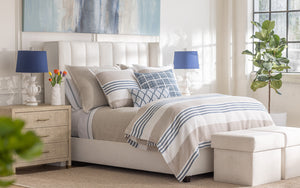 Design Your Own Dream Bedroom
A quick guide to creating your own personal bedroom retreat.
Start with Coverlets
"Choose your favorite quilted coverlet and large oversized pillows. I like the fabric to be soft to the touch, and I always choose two Luxe Euros to place in front of the sleeping pillows." - Sandra
Mix & Match Accent Pillows
"Mix and match with our accent decorative pillows. This is your chance to be creative, and design a look that is exclusively your own. I believe that your bedding should be an extension of who you are." - Sandra
Add a Throw
An accent throw can be layered at the foot of the bed, or on an accent chair.
Select Your Bed Sheets
Find just the right bed sheets that feel great every time you climb into them. Start with choosing the sheeting that is best for you by understanding the difference between percale and sateen cotton.
Complete the Room with Drapery Panels
Complete the room with interesting Drapery Panels.
FREE DESIGN HELP
Connect with a Linen Specialist for free design help and buying tips.
Let's Connect